Lower Salmon River Gorge – Idaho
Roller coaster rapids, perfect swimming water, and wonderful canyonlands. The Salmon – River of No Return – drifts through quiet pools and surges into churning whitewater. Camping on exotic pure white sand beaches is unforgettable. The largest undammed river in the continental United States.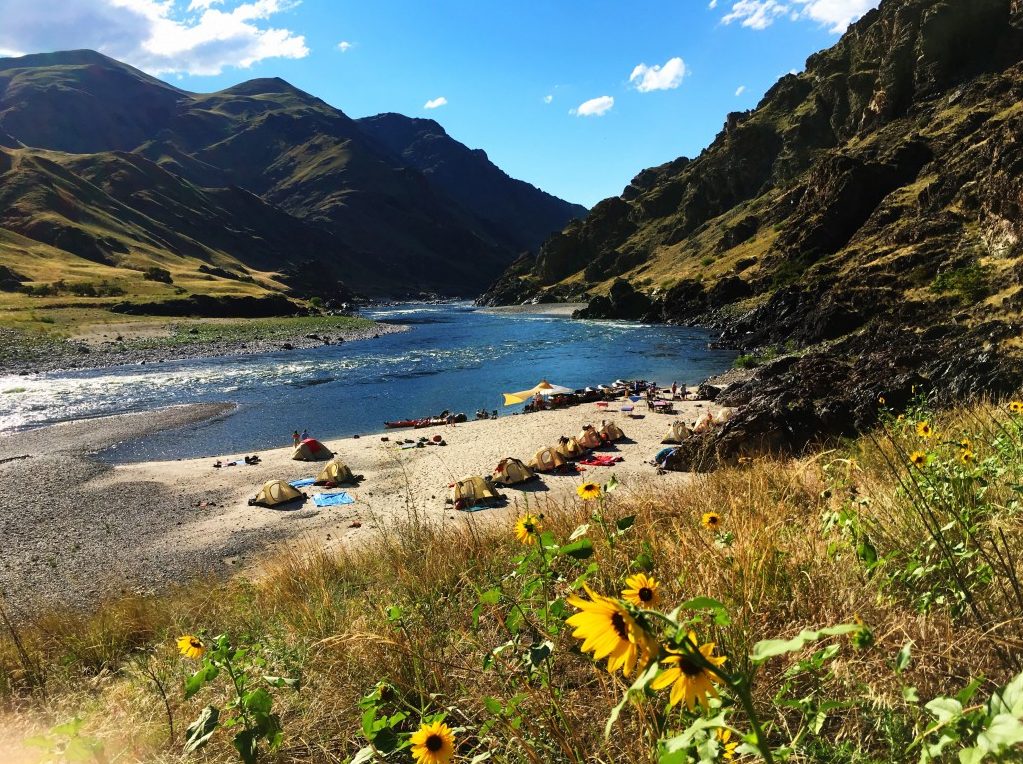 Whitewater rafting and inflatable kayaking trips on the Salmon River are incredible outdoor vacations. The Salmon is famous as Idaho's "River of No Return". Enjoy long summer days, warm swimming water, the largest pure white sandbar camps in the West, roller coaster rapids, and wonderful canyonlands.
The "River of No Return" drifts through quiet pools and surges into churning whitewater. Lower Salmon River Canyons are an ideal place to enjoy paddle rafts and inflatable kayaks. Green, Cougar, Snow Hole, and Blue canyons offer many of the Salmon's best rapids, including Demons Drop, Pine Bar, Bodacious Bounce, Half & Half, Snow Hole, China, Wapshilla, Flynn Creek, Zig Zag, Slide, Sluicebox, Checkerboard, Eye of the Needle, and more.
The international whitewater rating for these trips is Class III-IV, with primarily Class III rapids.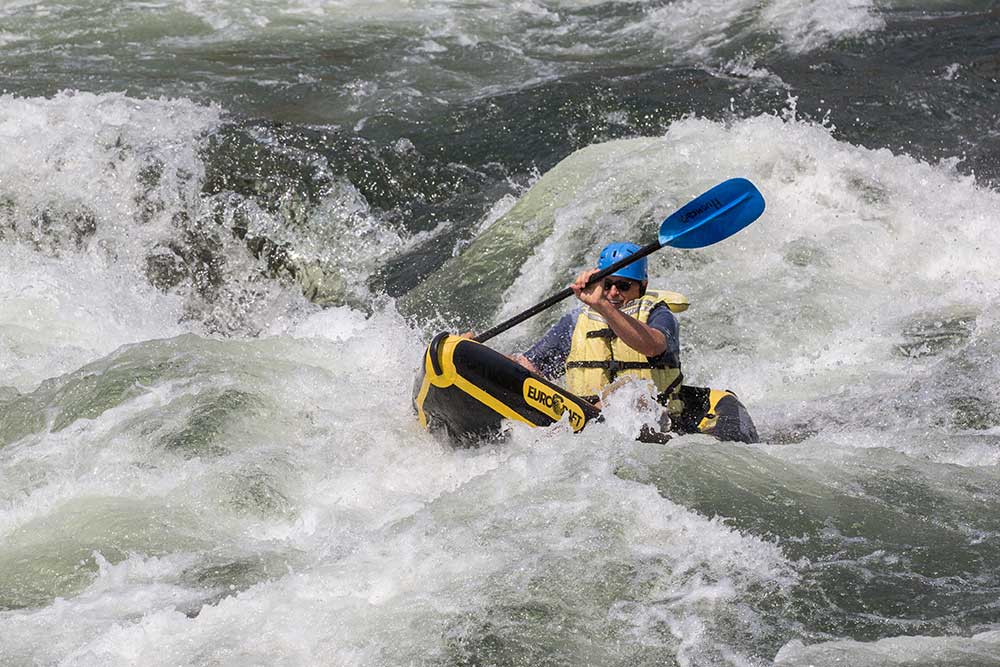 Camping on the Salmon's huge sand beaches is unforgettable. As the largest undammed river in the lower 48 states, the Salmon provides a unique opportunity to enjoy pristine sandbars and natural riparian areas. The camps are perfect for swimming, frisbee, volleyball, or making a sand castle.
Fishing Salmon River Canyons
Many species of cold and warm water fish live in the Salmon River, including rainbow trout, smallmouth bass, white sturgeon, steelhead, and salmon. Summer trips offer fly and spin casting for bass and trout, and "catch and release" fishing for white sturgeon. Learn more about fishing the Salmon River Canyons.
Many of our summer guests plan to include fishing as part of their trip. Serious fishermen can arrange fishing rafts with 2 guests/boat & guide service. Check for rates and details.
The Surrounding Terrain
The backcountry and natural histories of the Salmon Canyon are intriguing. The Nez Perce War touched this region, and stories of the Billy Creek Crossing and the Battle of White Bird are remarkable chapters of Salmon River history. We stop to inspect Chinese rock houses, abandoned mines, and Native American pictograph sites.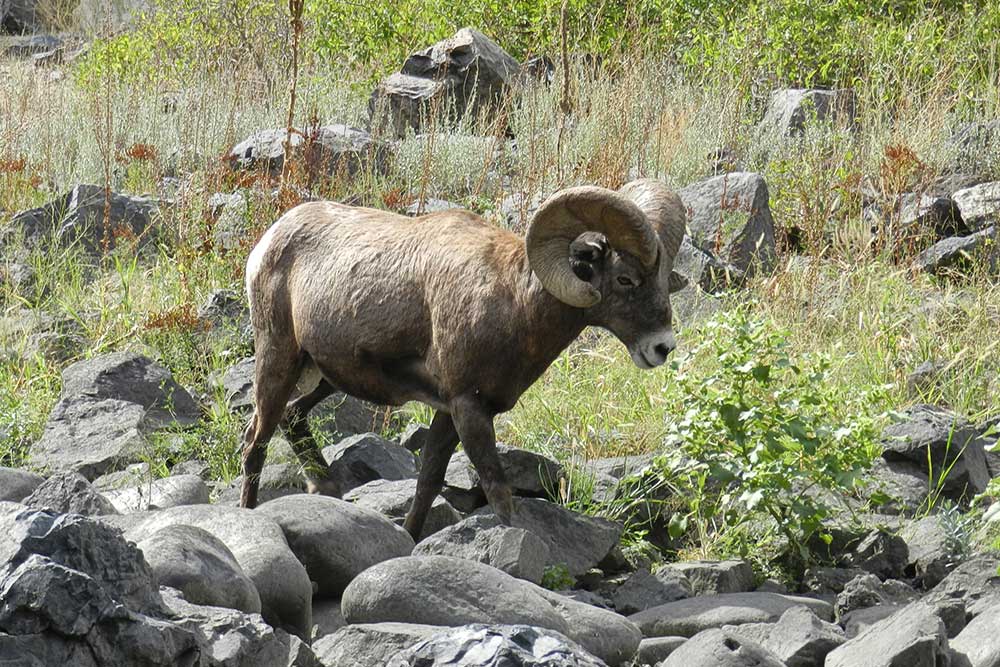 Salmon River Canyon provides habitat to a wide variety of wildlife. The area's birds include canyon wren, water ouzel, kingfisher, chukar partridge, Canada geese, merganser, heron, and many more. These canyons feature one of the world's highest concentrations of raptors. Golden eagle, red-tailed hawk, northern harrier, American kestrel, nighthawk, and osprey all frequent the Canyon. You can hear coyotes howl and spot beaver, otter, or mink. Mule deer and white-tailed deer are often seen during the summer. Rocky Mountain bighorn sheep, elk, cougar, and bobcat are common but rarely spotted.
Salmon River Canyons Schedule and Rates
5 Day Expedition – $1785/adult; $1620/youth
4 Day Expedition – $1495/adult; $1360/youth
Most trips through the Salmon River Canyons are planned for 5 days. Check with the Hughes Office for 4 day trip information.
Rates include jet boat from below Confluence of Salmon and Snake Rivers to Hells Gate State Park in Lewiston.
Youth Rate applies to kids, teens, and undergraduate students.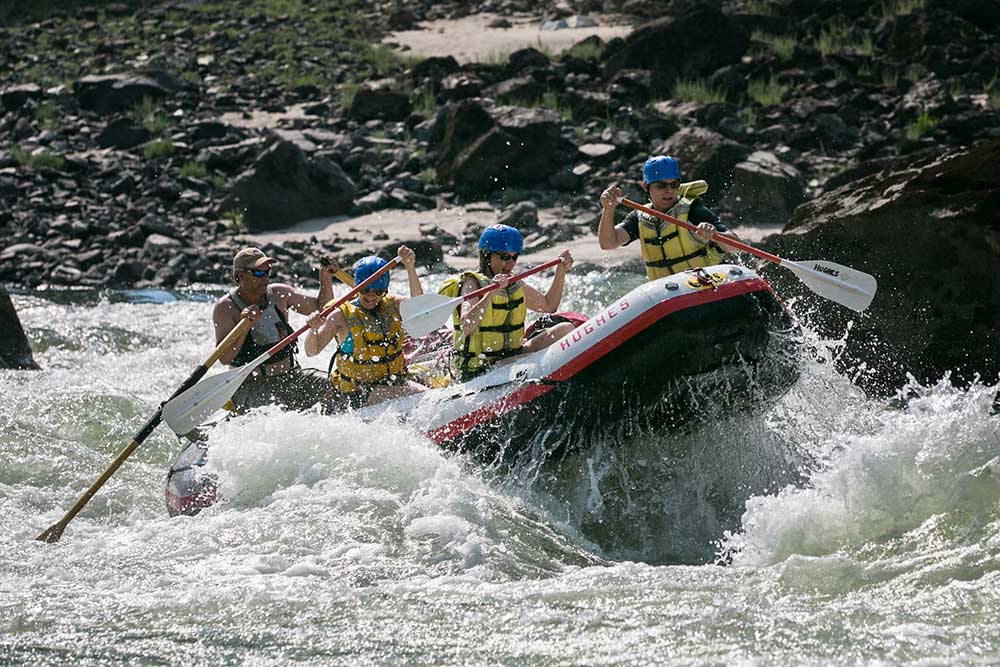 2017 Scheduled Trip Dates:
June 25-28*
July 2-6
July 9-13
July 16-20
July 23-27
July 30-August 3
August 6-10
August 13-17
August 20-24**
August 27-31
September 3-7
September 10-14
September 17-21
*June 25-28 will be our "High Water Special" on the Salmon River Canyons.  If the water is too high however we will back the trip up with a Wallowa-Grand Ronde Rafting trip.  Check-out our Wallowa-Grand Ronde river trips here: Wallowa-Grand Ronde Main Page
** August 20-24 will be our Specialty "Total Solar Eclipse" River Trip.  The trip will be highlighted by the opportunity to experience the Total Solar Eclipse on the second day of the trip.  Central Idaho will be an absolutely brilliant location for viewing the event!  Book by deposit soon, this is a hot item!
Book Now
Book your Salmon River Canyons Trip Online
Deposits to Confirm
5 Days @$550/person
4 Days @$450/person
The Lower Salmon River Canyon winds through lonely Natural Resource Lands managed by the Cottonwood Resource Area of the Bureau of Land Management.