5 Day Expedition – Lower Canyon
Launch Site:  Rome
Take-out:  Leslie Gulch
65 river miles
The Lower Owyhee Canyonlands offer superb rafting vacations great for family kayaking and paddle rafting with numerous Class III-IV rapids.  Rugged basalt-rhyolite canyon walls tower about the river.  Lush grasslands, towering spires, gorgeous canyons, and hillsides of sage and juniper protect remote campsites.   The colorful pinnacles of the Chalk Basin are one of the hidden treasures of Eastern Oregon's high desert.  The ancient shallow Lake Idaho covered the area 10 million years ago.  Shells of microscopic creatures built up layers of diatomaceous earth – chalk – in the lake.  What remains are the weathered spires, goblins, and hoodoos of Chalk Basin with a rainbow of yellows, reds, and whites.  Dark, chocolate horizontal bands of more recent lava flows baked the clay mud into red brick and other colorful layers.  Another scenic and geologic highlight is the sheer walled 1,400 foot deep Iron Point Canyon where the river winds through several exciting rapids including Montgomery (Class IV).
4 Day Expedition – Middle Canyon
Launch Site:  Three Forks
Take-out:  Rome
37 river miles
The Middle Owyhee Canyon offers challenging rafting vacations for the adventurous.  The Middle Canyon features challenging Class IV+ whitewater including the famous Ledge, Halfmile, and Widowmaker.   Narrow, vertical walls downstream of Soldier Creek form the imposing Widowmaker Canyon.  This portion of the Owyhee is one of the most challenging stretches of whitewater in the region.
Headquarters & Starting Point
Vista Inn Best Western, 2645 Airport Way, Boise, ID  83501.  208-336-8100 or 800-727-5006.  Plan to meet a representative from Hughes River Expeditions at 7:00 pm the evening prior to launch.  During the pre-trip meeting, we will discuss the trip, hand out trip gear, and work out any last minute details.  We recommend that you make motel reservations at the same time you reserve space on your trip.  Vehicle parking and luggage storage are available through Vista Inn.  Check with the desk.  When you book your room, tell the desk you are on a rafting trip with Hughes River Expeditions.  Ask for the Outfitter/Guide discount.
Getting to Boise
Fly into the Boise International Airport (BOI.)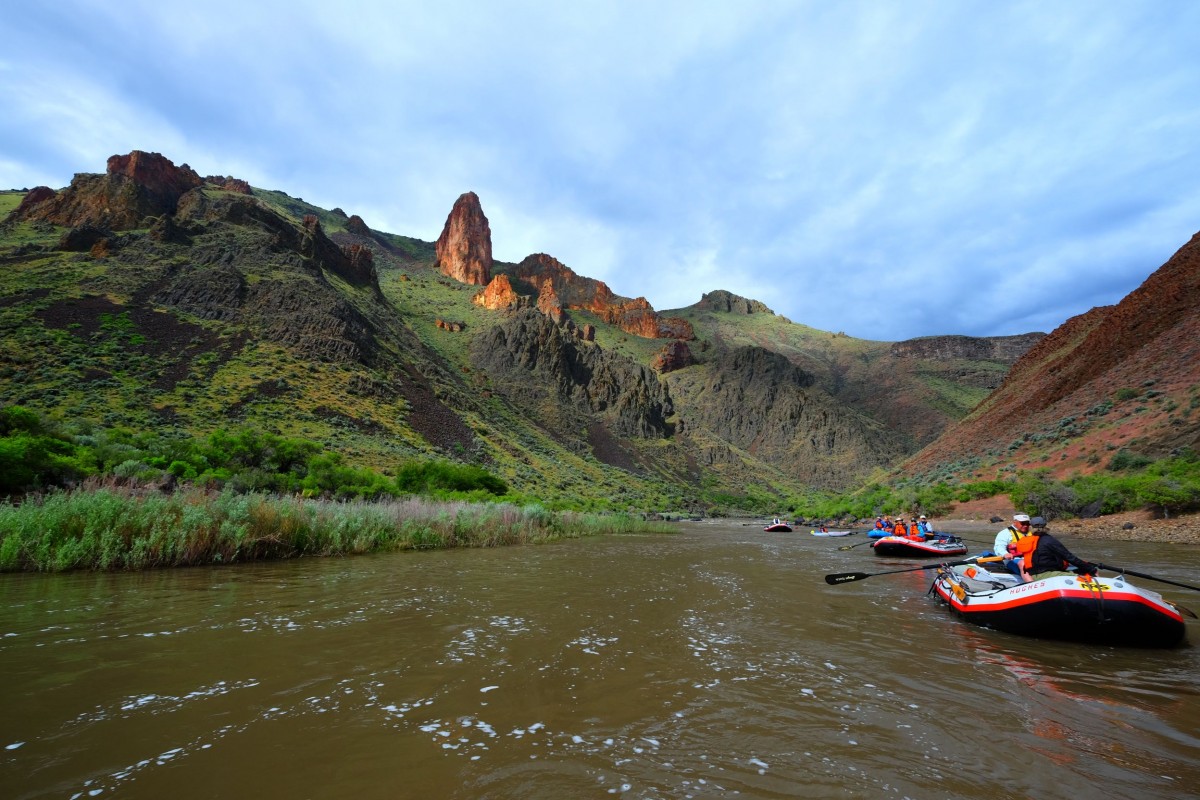 The Trip
Morning the 1st day, we will leave Vista Inn at 8:00 am.  Plan to return to the Vista Inn by 3:30 to 4:30 pm on the last day of your trip.  Hughes River Expeditions provides transportation from Vista Inn, to the river, and back.  Rafters who bring their own equipment on the 5 Day Lower Owyhee Canyon trip can arrange shuttles for their vehicles through HRE.
Fishing
Although the Owyhee Canyons are stellar summer German Brown Trout fishing streams the time of year that we run our expeditions during "spring flows" and fishing is bleak. These are wilderness expeditions and will have other draws that bring the client to desire this trip! Trust us the beauty, solitude, and time on the water is worth the experience on its own.
Weather
Springtime weather in the Owyhee Canyonlands is difficult to predict.  Spring and the Owyhee Canyonlands can bring warm days, cool nights, and possible thundershowers. Daytime temperatures may range from 50-80 degrees.  Be ready for anything.
Trip Insurance & Responsibility
We encourage the purchase of Trip Cancellation, Accident, and Baggage Insurance Policies. These policies cover cancellation, personal property, and personal injury. Many insurance companies offer such policies.
HUGHES RIVER EXPEDITIONS, Inc. spares nothing to assure that all trips we outfit are the safest and best outfitted expeditions available. Our safety record is excellent. However, river running is not without some risk, and you as a potential river runner must be willing to assume some risk. HUGHES RIVER EXPEDITIONS, Inc. assumes no responsibility whatsoever for your personal safety or for damage or loss of your equipment.
BLM Owyhee Canyonlands MAP:
Available through the office.  800-262-1882 or info@hughesriver.com
Gratuities
Gratuities are greatly appreciated and are shared among the crew. Typically tips are 10%-20% of the trip fare.
*Please remember that a 10% tip in most service industries usually expresses less that excellent service as 20% usually alludes to extraordinary service. We guarantee exceptional service on HRE trips and the guides receiving gratuities accordingly is much appreciated!