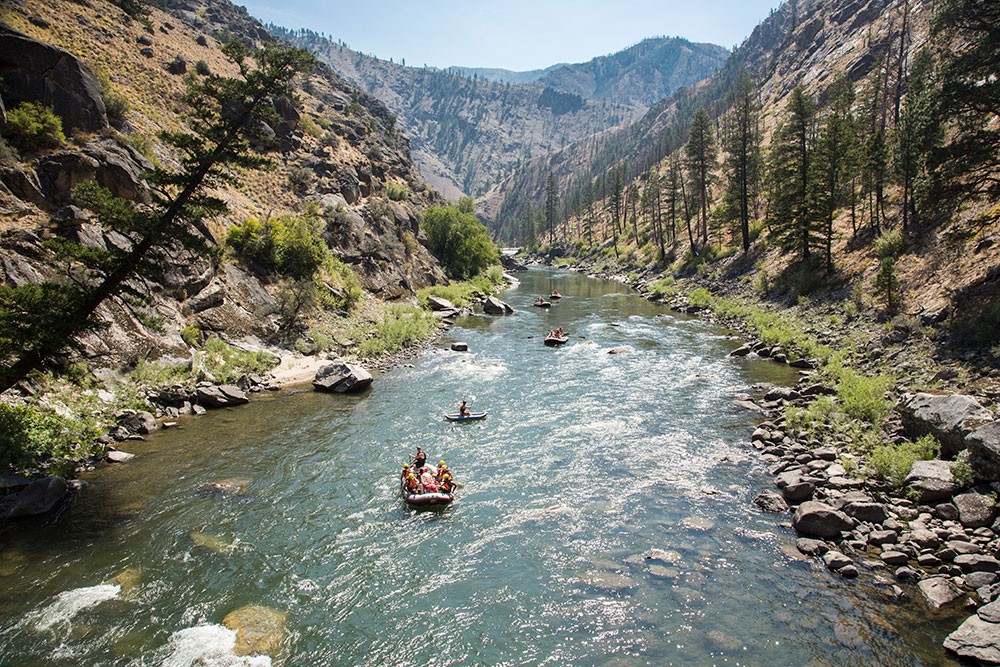 Hughes River Expeditions, Inc. outfits and guides on Idaho's premier rivers, and has been running rivers in the west since 1976. The outfitting service is owned and operated by husband and wife, Jerry Hughes and Carole Finley. Jerry and Carole live in Stanley, ID (population 68), where Hughes River Expeditions, Inc. has its Middle Fork of the Salmon River headquarters.
Jerry Hughes is a native Idahoan who first ran the Middle Fork in 1963. Jerry has been working in this region as a professional guide since 1969. Jerry earned a Bachelors Degree in Business and a Juris Doctorate in Law from the University of Idaho.
Carole Finley was raised in northern Idaho. Carole is an experienced river guide, and has worked in the river outfitting business for 45+ years. Carole received degrees in History and Economics, and did graduate work in Accounting and Economics at the University of Idaho.
References
References are available upon request.
We have outfitted for National Geographic Society (5 trips), WTBS – "Portrait of America – Idaho", The Nature Conservancy (5 trips), Edsel Ford, Frank Wells, Dan & Rae Emmett, Charles Knight, Sir Edmund Hillary, Peter Ueberroth, Jon Lovelace, Bob Kirby, Graham Holloway, Mike Shanahan, Jim Rothenberg, Kevin Clifford, Tim Armour, Greg Wendt, Grant Cambridge, Joyce Gordon, Steve Maritz, Charles Gunn, Packy Jones, Jim Murren, Robert Johnson, Sale Johnson, Joe & Tim Hixon, Larry Jones, Dana Messina, Tom Strickland, Topher Grace, Ed Burns, Christy Turlington, Barry Lopez, Dr. Ferrol Sams, Luna Leopold, David Lavender, Will Gray, Lin Shaye, Warren Herlong, Pete Vial, John McKay, Lord Robin Russell, Pacific Club, Nez Perce Tribe, American Recreation Products, University of Idaho Alumni, Princeton Alumni, Sierra Club, The Wilderness Society, Capital Group/American Funds, RADIAN, and Maritz Travel Co.
Articles describing our trips include:
America's Majestic Canyons, Nat. Geo. Society (79 – Snake, Middle Fork); Child (7/87 – Salmon, Snake); Sporting Classics (7/87 – Salmon Canyon); Conde Nast Traveler (3/89 – Middle Fork); W. Edition Outdoor Life (7/89 – Snake); Vis a Vis (6/90 – Salmon); Wing & Shot (2/91 – Salmon); Oh! Idaho (Fall 91 – Snake); Diversion (6/92 – Snake); Outside (2/93 – Middle Fork); Family Fun (6/93 – Snake); Andrew Harper's Hideaway Report (93, 95, & 96); Horizon Air (3/93 – Snake); Outside (5/93 – Salmon); Ski (5/93 – Middle Fork); Reader's Digest Video Series, "America's Wilderness" (95 – Middle Fork); Outside, "Family Vacations" (Summer 96 – Middle Fork); Maxim (5/98 – Snake, Middle Fork); Salt Lake (3/99 – Middle Fork); Ski (5/99 – Snake); Big Sky Journal (Fall 1999); Nat. Geo. Adventure (4/00 – Snake); Nat. Geo. Ultimate Adventure Sourcebook (00 – Middle Fork, Snake); Nat. Geo. Adventure (10/03 – Snake); Men's Journal (10/04 – Snake); Travel & Leisure (4/04 – Middle Fork); Bridal Guide (7 & 8/05 – Snake); MSNBC News, Active Travel, Essential Idaho (4/05 – Middle Fork); The Nature Conservancy "Journeys" (summer 06 – Middle Fork);NW Travel Ride the Rivers (4/07 Snake, Middle Fork, Salmon); Gene Harris Jazz Festival Brochure (4/07 Snake); Sunset Magazine (5/07 Snake); SkyWest & United Express, Delta Connection (3-4/07 Middle Fork); Treasure Valley Journal (4/07 Snake); STRATOS (6/07 Middle Fork); Rail Riders (summer 07 Middle Fork); Idaho Public TV's Outdoor Idaho- A Middle Fork Journey (2008 – Middle Fork). Boise Weekly (8/12 Middle Fork)
What's Included in the Trip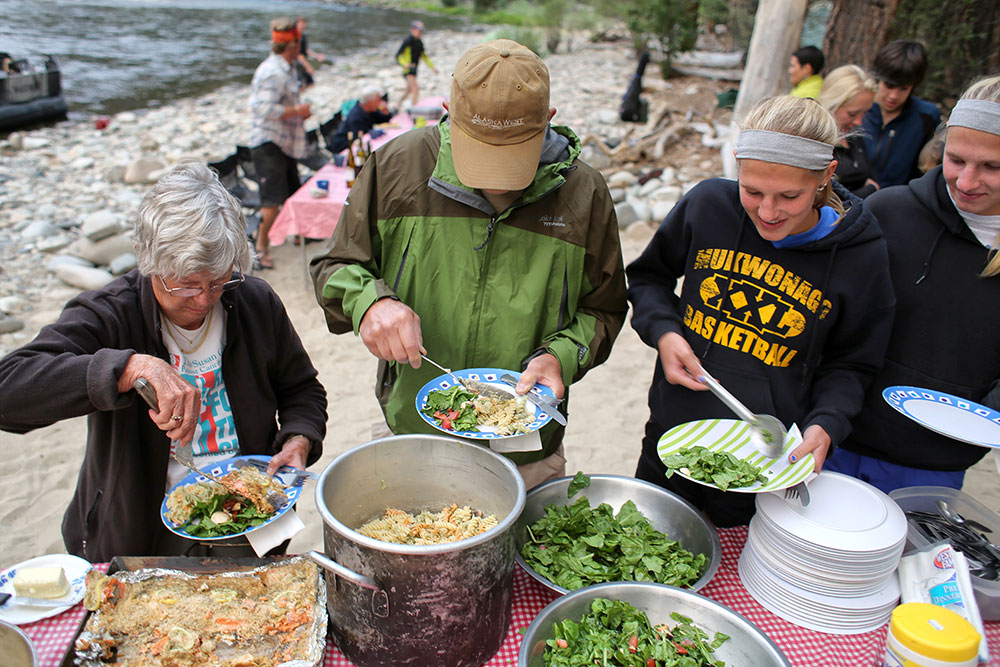 We provide all meals beginning with lunch the 1st day, and ending with lunch the last day of your trip. Also included are utensils (cups, silver, plates), plenty of drinking water, a limited supply of complimentary soda, fruit juice, beer, and dinner wine, and ice for beverages.
All camping and rafting gear is provided including: tents, deluxe sleeping pads, freshly laundered sleeping bags & small camp pillows, camp chairs, dining tables, waterproof duffles for your personal gear, day bags, camera boxes, Coast Guard approved life jackets, Farmer John wetsuits (spring & high water), and helmets for paddle teams & kayakers. Once you make reservations, or on request, we provide a detailed "Gear List" of recommended personal items for the river. Also, check our website for trip details and gear lists.
Drinking Water and Sanitation
Drinking water is available throughout the trip. A handwash system is available for all meals and in camp.
Toilets
To keep the river environment as clean as possible, solid human waste is collected and transported out of the river canyons in tank toilets. These are "camping trips" with no flush toilets.
Office Hours
Call us at: 406-540-4450
Monday through Friday 8:30 a.m. to 5:00 p.m. (Mountain Time). Also, feel welcome to call anytime to leave a message on our voice mail.
Water and Weather Conditions
Extremely unfavorable water and weather conditions, insufficient bookings, and other conditions & events, can be cause for a trip cancellation. Hughes River Expeditions, Inc. will not be held responsible for any cancellation, or for expenses incurred as a result of such cancellation. Hughes River Expeditions, Inc. has the right to make schedule changes to alternate rivers when necessary due to high water, low water, forest fires, log jams, debris flows and other events. When you book a trip with HRE you agree to make such schedule changes when required by events beyond our control. Extreme water conditions may mean that paddle rafts, supply pontoons, McKenzie drift boats, and/or inflatable kayaks cannot be used. Hughes River Expeditions, Inc. has the right to make river craft changes when necessary for safety. When last minute boat changes are necessary, we may not have time to inform you before your trip. But, whatever happens, we promise a great river trip and lots of fun!
USDA/FS Policy
In accordance with Federal law and U.S. Department of Agriculture policy, this institution is prohibited from discriminating on the basis of race, color, national origin, sex, age, or disability.
To file a complaint of discrimination, write USDA, Director, Office of Civil Rights, Room 326-W, Whitten Building, 1400 Independence Avenue, SW, Washington, D.C. 20250-9410 or call (202) 720-5964 (voice and TDD). USDA is an equal opportunity service provider and employer.
The U.S. Department of Agriculture (USDA) prohibits discrimination in all its programs and activities on the basis of race, color, national origin, age, disability, and where applicable, sex, marital status, familial status, parental status, religion, sexual orientation, genetic information, political beliefs, reprisal, or because all or part of an individual's income is derived from any public assistance program.
Permits
This institution is operated under special use permits with the Salmon-Challis National Forest, Bitterroot National Forest, and the Cottonwood Field Office of the Bureau of Land Management.  This institution is an equal opportunity provider.
Idaho License

Hughes River Expeditions, Inc. is a licensed Outfitter with the Idaho Outfitters and Guides Licensing Board, State of Idaho.
Liability
Hughes River Expeditions, Inc. has an excellent safety record. However, river running is not without some risk, and you as a potential river runner, must be willing to assume this risk. HUGHES RIVER EXPEDITIONS, Inc. assumes no responsibility whatsoever for your personal safety or for damage or loss of your equipment. We strongly recommend the purchase of trip insurance. You will be required to sign a waiver/assumption of risk form in order to join a river trip with Hughes River Expeditions, Inc.