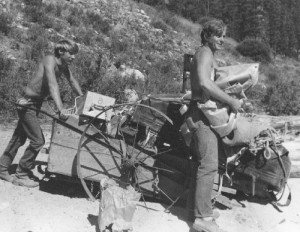 Age 11 in the late 1950's, Jerry Hughes watched a TV program about rafting the Middle Fork of the Salmon. The announcer stated, "Don Smith knows every rock in the river", and the images showed Don rafting whitewater in the Idaho Primitive Area. Jerry turned to his mom, Virginia, and big sister, Bertie, and announced, "I'm going to do that." Bertie told him that he was a little jerk and could never do anything like that. Of course, a sibling fight broke out. Virginia put down the quarrel. But, Jerry was going to remember that TV program.
In 1963, Jerry floated the Middle Fork, followed by the Main Salmon in 1964 with the Boy Scouts. And, the summer of 1965, before his senior year in high school, Jerry worked for the Boy Scout program helping run 9 Middle Fork trips that summer. During that summer on the river, he met several guides, but most importantly, he met Don and Ted Hatch. By the summer of 1967, Jerry was working for Hatch River Expeditions on the rivers of Idaho, Utah, and Arizona. Bus Hatch invented river running, and Jerry was on board when their business expanded in 1967 after Hatch took the Kennedy family on the Middle Fork in 1966. Jerry worked for Hatch 7 years – 1967-73, and loved every bit of it. (see History on this website)
When the Hughes family goes on vacation it's a river trip. Through the years many, perhaps most, family vacations were river trips.
We love river running! This isn't just a business, it's our way of life. Join us "on the river".
What we think makes HUGHES RIVER EXPEDITIONS special.
– Safety First.  We know how important safety is to you and your family. It's just as important to us. We sponsor Advanced Wilderness First Aid, Wilderness First Responder, and Advanced River Rescue training trips on a regular basis for Hughes Crew, guides from other companies, and agency personnel.
– Expert, experienced guides who come back year after year. Check out Hughes Guides. These people are professional boatmen, fishing guides, fabulous outdoor cooks, and just plain fun to spend time with. You will love the Hughes Crew.
– Top notch River Equipment. Jerry Hughes is a "toy store" guy. The toys he loves are river craft, river kitchens, tents, deluxe sleeping pads, deluxe sleeping bags… You will enjoy our "river library" of books, pamphlets, maps, and articles about the area you are floating through.
– Food.  Not "just" food, but FOOD. Fabulous outdoor meals featuring fresh meats/poultry/fish, fresh fruits & vegetables, Dutch oven baking. On full trips we have seven Dutch ovens stacked five feet high full of hot breads, main course, side dishes, and deserts. Always plenty! We don't cut corners on anything, and especially on food. We have an excellent floating restaurant. But, it is hard to find … we move approximately 15 river miles daily. Check out Our River Menu.
– Fishing gear and instruction provided. Experienced fishermen usually prefer to bring their own gear. However, we have plenty, and we'll help a youngster catch that "first" fish.
– River Craft. State of the art self-bailing oar rafts, paddle rafts, and inflatable kayaks. Our craft are custom ordered to our specifications to Northwest River Supplies, Demaree Inflatable Boats, Hyside, and other quality manufacturers. Our custom designed 22 foot gear rafts carry the river kitchen, duffel, camp gear, and extra ice chests. On Middle Fork and Main Salmon trips the gear boatman floats ahead and organizes the camp before your arrival. On Salmon Canyons, the gear boatman arrives in camp no earlier than 1:30 pm Pacific Time to accommodate BLM rules for the Salmon River Canyons trips. The gear boatman begins to organized the camp, and the rest of the guide crew pitches in when they arrive. The Hughes Crew sets up and takes down camp. On Selway Trips, all the rafts arrive daily at the same time. The Hughes Crew heads up the camp set up and the following morning take down.
– Copying is a great compliment and we appreciate it. Several Idaho and Eastern Oregon outfitters have copied the Hughes program – gear boats, menu, etc. However, we re confident that the "original" is still best!
– "Off the river" is often where a great trip begins: The Hughes Crew knows the best hikes, secret places, abandoned cabins, ancient mines, Native American sites (pictographs, house pits, rock shelters), the best fishing holes, and the magic hike to a huge view. Off the river is an incredibly important part of your river trip.
– Sanitation: Multi-bucket hand wash stations in the kitchen and by the river toilet. Hughes Crew does the dishes with a thorough four bucket system. Squeaky clean river kitchens. Low impact camping. Plus unlimited potable water.
– Who runs the operation? Jerry Hughes, Carole Finley, Colin Hughes, and Meg Hughes. During the boating season Ashley Hughes guides and helps keep everything flowing. This is a family business, and we all take great pride in it. A combination of family members and long time employees oversee each trip. The expert Hughes Guide Crew is essential and invaluable in the preparation and operating of each Hughes trip.
– Experience counts. Hughes River Expeditions was founded in the fall of 1976, and 1977 was our first year operating trips on Idaho's backcountry rivers. Check out Hughes Guides and History on the website.
– References. Go to About Hughes. 5 trips with National Geographic, 5 trips with The Nature Conservancy, multiple trips with Sir Edmund Hillary. Edsel Fork, Frank Wells, Peter Ueberroth, Charles Knight, Woody Johnson, Jon Lovelace, Bob Kirby, Mike Shanahan, Jim Rothenberg, … The incredible Idaho Public TV Outdoor Idaho crew have done shows with Hughes on both Middle Fork and Snake.