Our river meals are delicious, surprising, and great fun for guests and the guides who prepare them. The keys are "fresh, top quality food prepared carefully" by guides who love to cook and "show off" off in our river kitchen. Hughes rafts carry huge ice chests that hold fresh meats and fish, fresh fruits & vegetables, dairy products, and other goodies for the entire trip. Each evening, we have a stack of up to seven Dutch ovens filled with the main course, side dishes, hot breads, desserts,  there's always "plenty" on a Hughes trip.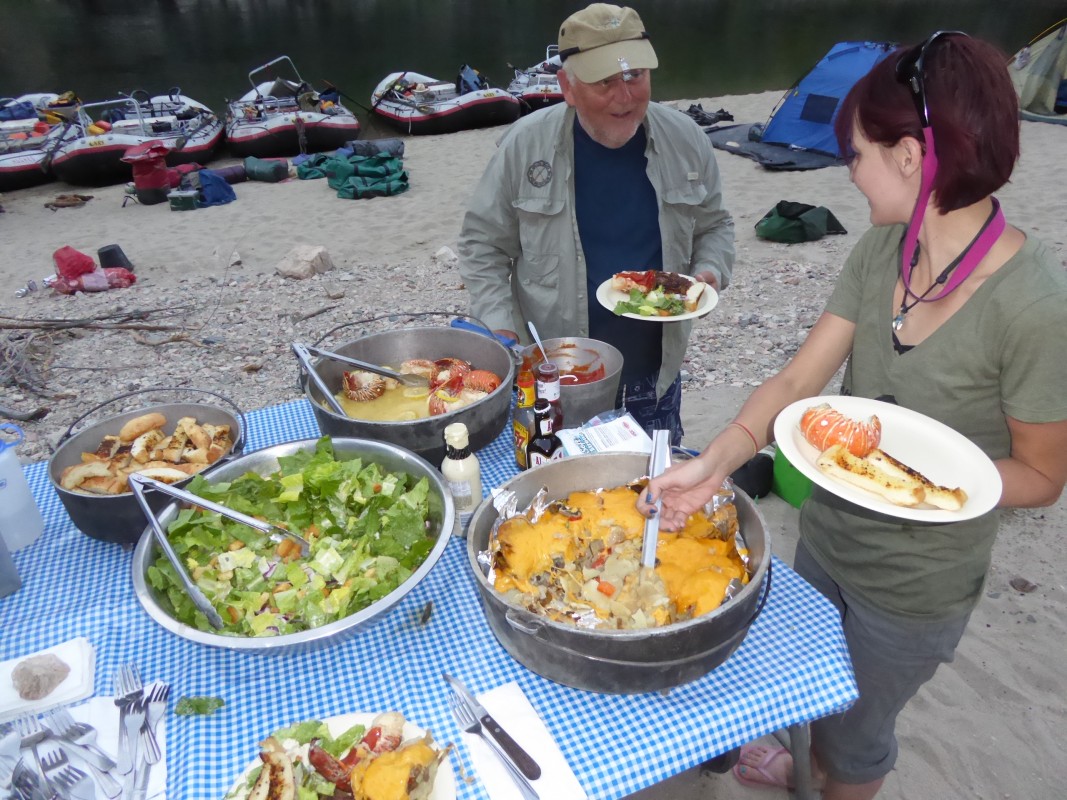 Dine in comfort with camp chairs, dining tables complete with table cloths, real plates and silver. Best of all, the Hughes Crew does the set-up, cooking, serving, and clean up – all with a smile. Cooking great meals on the river is great fun.
Hughes provides a complimentary beverage supply of beer, soda, fruit drinks and wine. Generous, but not intended to cover all trip beverages. And the other good news is that we have ample room for you to bring your favorites. Large ice chests keep the drinks chilled. Cocktail ice is available each evening.
We know you don't come on a river trip just for the food. However, we take pride in fabulous meals. Hughes River meals are not just food, they are GREAT FOOD! Here's an outline of what you can expect on a six day trip.
Breakfast
Breakfasts always include coffee, hot chocolate, tea, fruit juice, fresh fruit, cereal, yogurt, half & half. Beverages, fruit, cereal at 7:00 am, and breakfast at 8:00 am.
French Toast and thick cut Idaho Bacon (vanilla yogurt, boysenberry and maple syrups)
Huevos Rancheros Breakfast burritos (scrambled eggs, corn and flour tortillas, chorizo, country sausage, fresh veggies, cheese, sour cream, salsa, black beans, refried beans …)
Yeast & Blueberry pancakes, fat links, eggs to order (vanilla yogurt, boysenberry and maple syrups)
Breaded and fried catfish fillets, Dutch oven cinnamon rolls, hash browns, eggs to order.
Lochs & Bagels, fresh fruit, yogurt and granola.
Lunch
Lunches include a fresh salad, cookies, candy, fruit, nuts, veggies, cheeses, and a variety of condiments.
Deli sandwich bar, homemade pasta salad, homemade cookies.
Caesar salad, wraps, sides of salmon and bacon. Cold cuts and cheeses.
Chicken, Bacon & Ranch salad wraps.
Deli sandwich bar, chips & cookies.
Taco Salad, cold cuts and a variety of cheese.
Locally catered lunch-every river varies.
Hors d'oeuvres
Each night is different. Plan on steamed artichokes with lemon and butter dip, an assortment of crackers & cheese, bruschetta, clam dip, guacamole always fresh and good.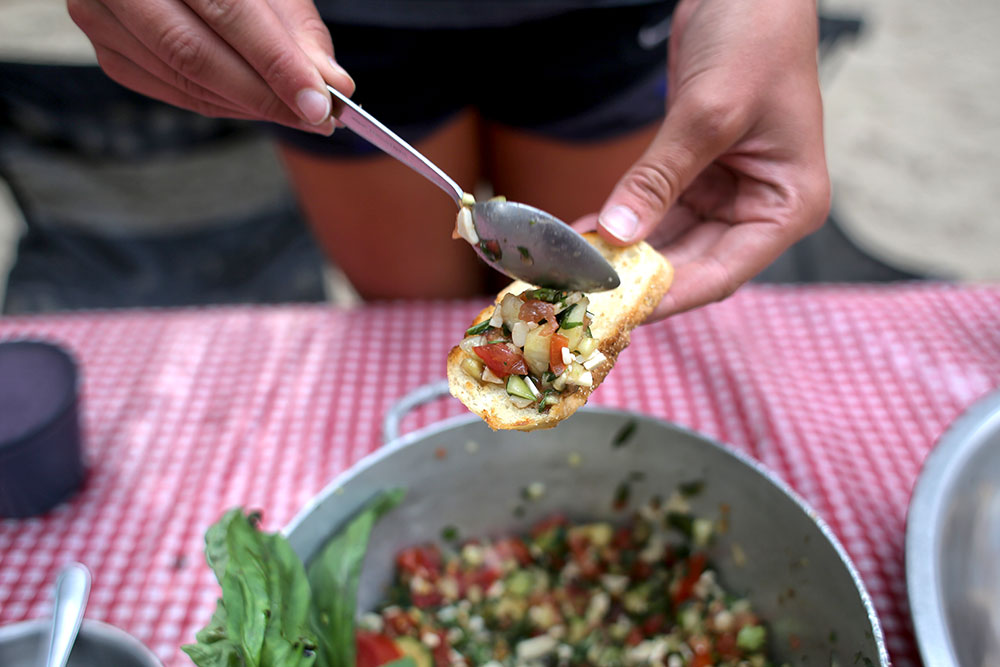 Dinner
Dinners are highlights of each river day. Hughes provides six bottles of wine per evening.
1st Night
Grilled wild sockeye salmon fillets
Scratch Dutch oven cornbread
Pasta
Wilted Spinach salad w/ warm dressing – with sides of bacon and boiled eggs
Dutch oven brownies with whipped cream
2nd Night
40 Mile Stew (Dutch oven delight, with lots of river history to enjoy) "Unique Specialty of the House". Many guests say it's their favorite, and ask for the recipe and a store to buy a Dutch oven.
Scratch Dutch oven buttermilk biscuits
Fresh corn on the cob
Deluxe cole slaw (cabbage, apples, oranges, raisins, walnuts on the side)
Dutch oven fruit cobbler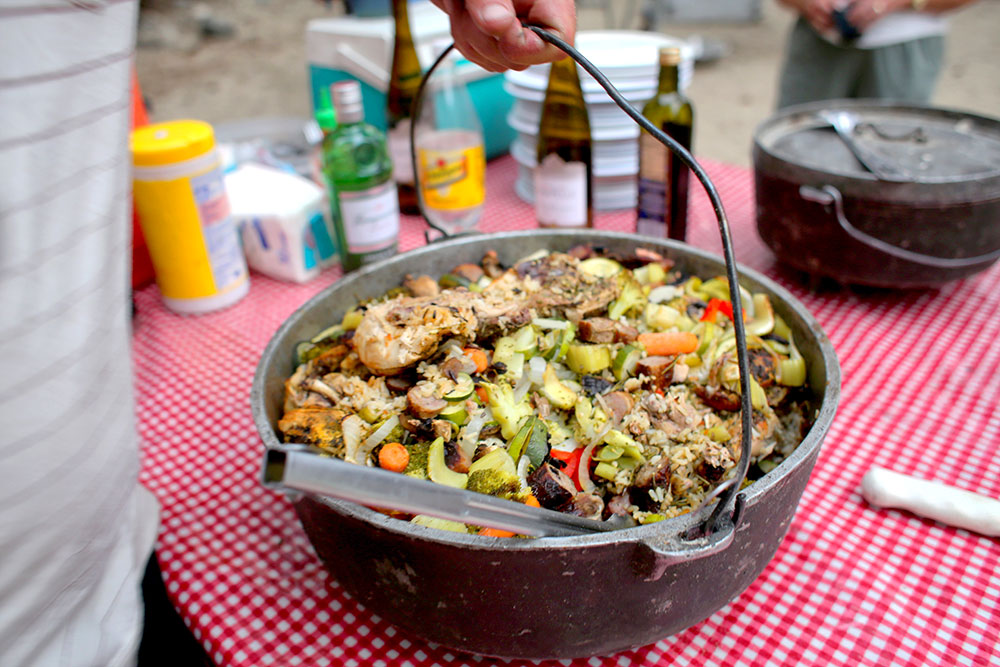 3rd Night
Marinated grilled thick cut pork chops
Apple Sauce
Scratch Dutch oven beer bread
Stir fried veggies
White Rice
Dutch oven carrot cake – double layer with creamy icing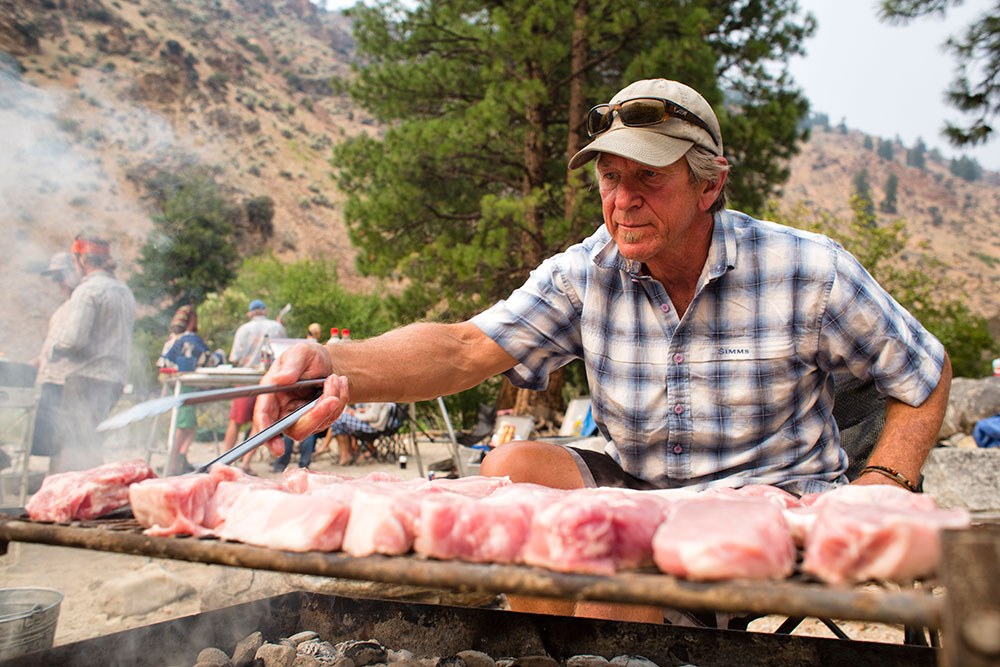 4th Night
Dutch oven Rock Cornish game hens with wild rice and veggies – spectacular Dutch oven meal. A Hughes specialty.
Scratch Dutch oven buttermilk biscuits
Deluxe green salad
Dutch oven fruit cobbler
5th Night
Grilled rib eye steaks & shrimp
Garlic bread
Dutch oven Sheepeater Potatoes (Idaho potatoes, onions, peppers, cheese, sour cream and cream of mushroom soup). Classic Idaho river dish.
Caesar salad
Dutch oven chocolate cake – double layer with raspberry jam between the layers and thick creamy chocolate icing
*We are happy to accommodate meal requests for certain diets, allergies,and or sensitivities. Call our office for more details.