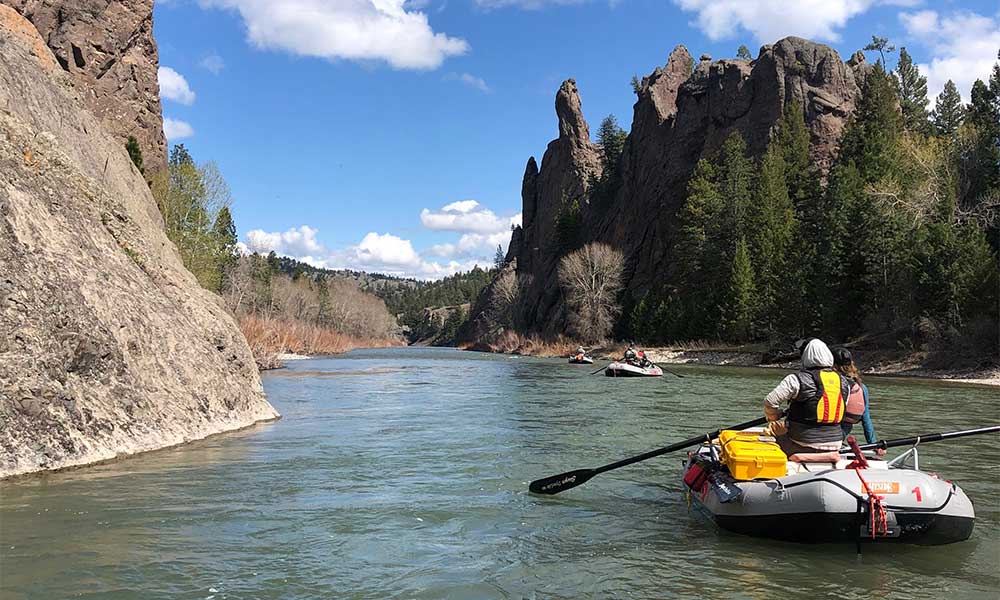 Dearborn River
Meandering out of the Scapegoat Wilderness and into the infamous fishery of the Missouri River near Craig, Montana the Dearborn is an absolutely breath taking stretch of river and canyon lands in the backcountry of Central Montana. From the put in it flows out of the Lewis and Clark Mountain Range along the Continental divide out of the Rocky Mountains. It is famous for its spectacular scenery, Birds of Prey, & amazing milky glacial water. The stream also has fantastic fishing opportunities although the season that it is runnable can produce cloudy water and cause on and off fishing. Consider the fishing a perk to this fantastic overnight trip!
Location: 2 Hours Missoula, MT. 2 Hours Great Falls, MT. 1.5 Hours Helena, MT.
Length: 20 Miles (2 Day/1 Night)
Difficulty: Class I to II+
Deposit: $350
Rate: $1099/Adult, $999/Youth
Dates: May 10th – June 15th depending on flows.
Group Size: Maximum 14 Clients
**1 Day Trip Options Available Rate: $400/person**
Book Your Dearborn River Trip Online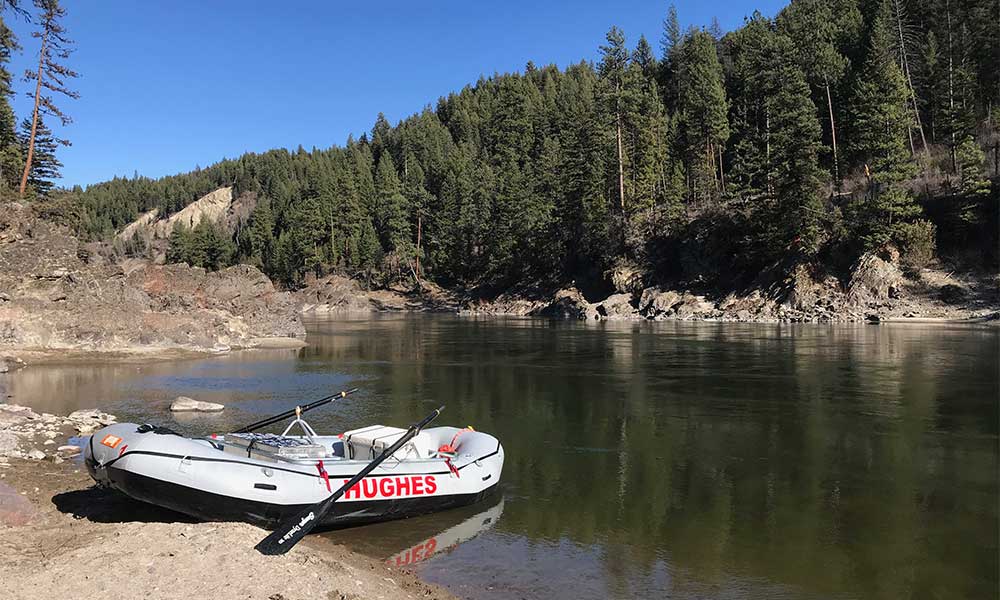 Clark Fork River – Alberton Gorge
"The Gorge" is one of Western Montana's classic whitewater runs! With notable rapids like Cliffside, The Ledge, Triple Bridges, Boat Eater, Tumbleweed & Fang it is no wonder why people come from far and wide to have a day on the water here! It is also one of the most beautiful runs in the Greater Missoula area. Many don't know that it is also some of the best fishing to be found in the region! Fantastic fall dry fly fishing for big Rainbow Trout and occasional West-slope Cutthroat & Brown Trout is spectacular combined with the shot at Northern Pike on the fly make for some incredible fishing! The scenery is dominated by dense forests and purple cliffs! It is really a gem in the fall for an overnight trip from Cyr to Forest Grove. It is a lot of fun to mix in the whitewater with some dry fly fishing!
Location: 30 minutes Missoula, MT. 1.5 Hours Couer'd Alene, ID. 2 Hours Spokane, WA.
Length: 10 or 16 Miles (2 Day/1 Night)
Difficulty: Class II to IV-
2 Day Fishing Trip
2 Day Deposit: $350
2 Day Rate: $1099/Angler (4 Minimum)
2 Day Dates Dates: September 20 – November 10
Group Size: Maximum 14 Clients
Book Your Alberton Gorge 2 Day Trip Online
1 Day Fishing Trip
1 Day Deposit: Pay In Full at time of Booking
1 Day Rate: $275/Angler (2 Minimum)
1 Day Dates Dates: August 1 – November 10
Group Size: Maximum 14 Clients
1 Day Paddle Rafting Trip
1 Day Deposit: Pay In Full at time of Booking
1 Day Rate: $99/Adult & $89/Youth (6 Minimum)
1 Day Dates Dates: July 10-September 10
Group Size: Minimum of 6
Book Your Alberton Gorge 1 Day Trip Online
Clark Fork River
We have 150 miles of stretches with multiple put in and take outs that we can use for day trip fly fishing trips for a variety of species; Westslope Cutthroat, Rainbow, German Brown and Scottish Brown Trout as well as Bass and Pike depending on the stretch and time of year!
Book Your Clark Fork River Trip Online
Bitterroot River
Our home waters from the Lolo, MT headquarters! We have around 50 miles of the main stem of the Bitterroot and 20 miles of the East Fork of the Bitterroot River. These streams are fantastic fly fishing streams for most of the season but are famous for their Spring Skwala Hatch. Boasting over 4,000 trout per mile the Bitterroot River offers a legitimate shot at the Montana Grand Slam; Cutthroat, Rainbow & Brown trout in the same day.
Book Your Bitterroot River Trip Online
Missouri River
The Missouri below Holter Dam is heralded as one of the best trout streams in the lower 48! Because it is below the reservoir the stream maintains its flows and fishing conditions nearly near round! Boasting nearly 8,000 fish per mile this stream is an anglers dream. We have nearly 50 miles of water near Craig, MT.
Book Your Missouri River Trip Online
Blackfoot River
The iconic stream from the novel and movie, "A River Runs Through It". It is famous for early season streamer fishing for massive cutthroat and occasional Bull Trout! It is also fantastic dry fly fishing throughout the summer!
Book Your Blackfoot River Trip Online

Missoula Area Corporate Retreats
Missoula, MT is a hub of culture and recreation in the Rocky Mountains in the Inner Mountain Pacific Northwest.  The access to rivers and other resources within an hour drive of a cultural epicenter is unparalleled. With various rivers and recreation options each day you can customize your retreat. Your group can mix and match the rivers above over a 2, 3 or 4 day period and have a scenic day, whitewater day, fly fishing day or mix and match however you'd like.  We work with the Double Tree by Hilton in "The Heart of Missoula" directly on the Clark Fork River for our Corporate Retreats.  Your stay at the Double Tree is included in the price through HRE.  Packages start as low as $375/person/day.
Location: Missoula, MT
Options: Fly Fishing, Whitewater Rafting, Scenic Floats, and Town Floats.
Rivers: Upper Clark Fork, Blackfoot, Lower Clark Fork, Clark Fork – Alberton Gorge, Bitterroot River, *Missouri River (*Additional Charge)
Difficulty: Class I to IV-
Deposit: $150/person/day
Rate: $375/person/day and up
Dates: July 1 – November 10
Group Size: Depends on details of retreat.  Call the office 800-262-1882 for more details.