5 or 6 Day Selway River Trip Details.
Headquarters & Starting Point:
Pre Trip Meeting Location: Double Tree by Hilton Hotel.
Pre-Trip Meeting Time: 7:00 PM
Our guests stay at the Double Tree by Hilton in in Missoula, MT for the Selway river.
Double Tree by Hilton
100 Madison St, Missoula, MT 59802
406-728-3100
We recommend making reservations at the Double Tree by Hilton at the same time you reserve spaces on your river trip. Let them know you are traveling with Hughes River Expeditions.
Traveling to Missoula
Fly to Missoula International Airport (MSO).
Put-in Beginning of the Trip
Put-in for the Selway varies with water, road, and weather conditions. We leave Missoula around 7:30 AM and with a couple of stops on our way plan to arrive at the put-in around 12:00 (noon). Whenever possible, we put-in at Paradise Creek Boat Ramp. We provide bus transportation from Missoula to the river (120 miles). However, for the safety of the trip, we sometimes put-in downstream at the Shearer Airfield. When we fly with bush pilots to Shearer Airfield, the price per person cost of the flight is not
included in the trip price. Plan to pay the pilots at the time of the flight (credit card or cash). We line up the flights.
July dates sometimes require flights due to low water flows.

Takeout / End of Trip
Early afternoon the last day, we takeout at Race Creek about three miles above Selway Falls & 20 miles above the Confluence of the Selway and Lochsa Rivers. From takeout, we provide bus transportation back to Missoula & the Double Tree by Hilton. 140 miles and about 2.5 hours driving time. Plan to arrive in Missoula about 5:00 p.m.
Fishing
The Selway is a "blue ribbon" Westslope Cutthroat Trout fishery. Fishing is normally good from Late June to early August. Regulations are 'catch and release'. Only artificial flies and lures with single barbless hooks are allowed. No bait fishing is allowed. We flatten the barbs with pliers on conventional hooks to conform to the rules. Recommended fly patterns include: Bucktailed Caddis, Adams, Renegade, Irresistible, Humpy, Goofus, Sofa Pillow, Royal Wolff, Stimulator, Hopper, etc. in medium sizes (#12, #16, …) You can purchase an Idaho fishing license and tackle from the Bob Wards in Missoula, MT or Hamilton, MT on the way to the river.
You can also purchase an Idaho fishing license directly from Idaho Fish & Game Dept. ( 800-554-8685 OR www.state.ID.US/Fishgame ) Cost is $12.75 for the 1st day, and $6/day for each additional day. Juniors (14-17 years of age) can purchase a junior fishing license for $13.75/teen/season. Children under 14 can fish on a license of an adult parent.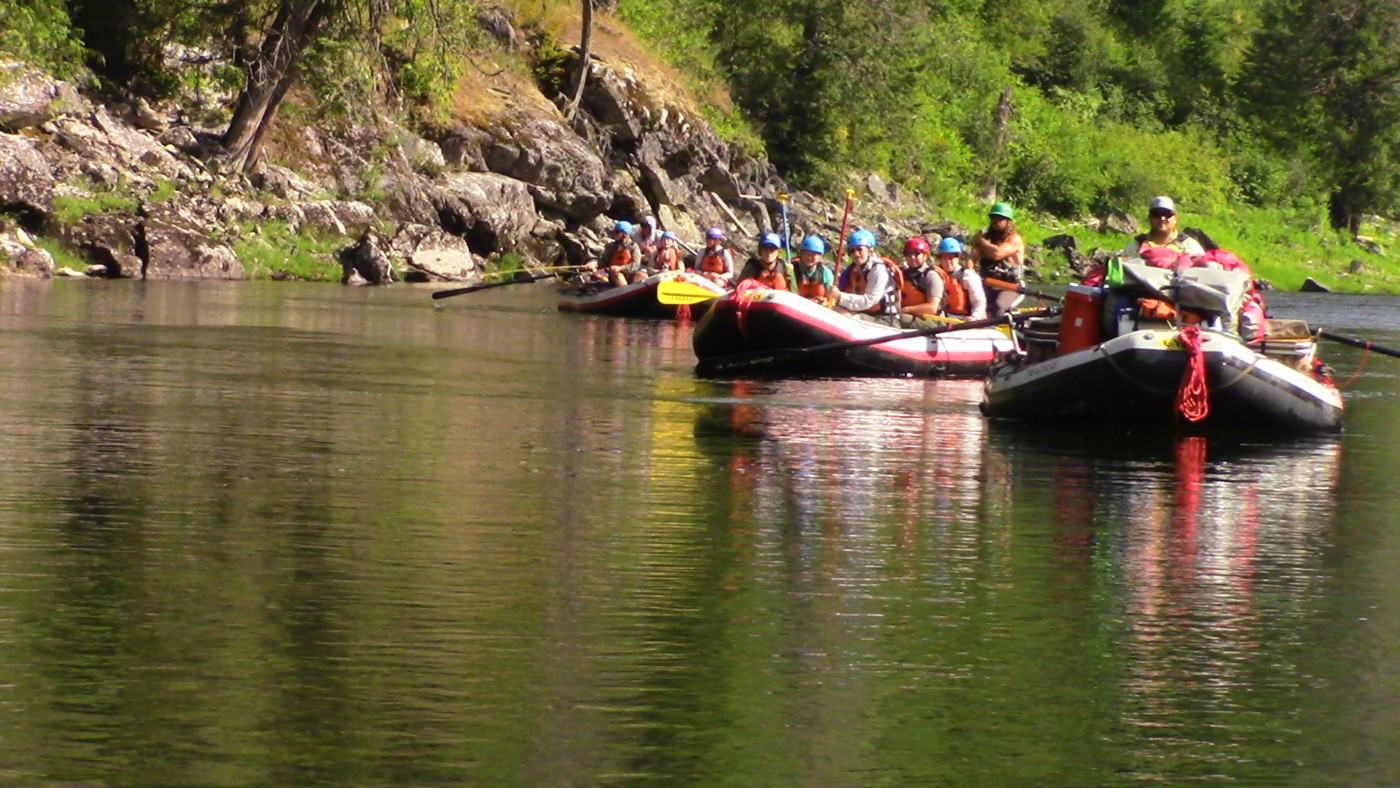 Vehicle & Luggage Storage
You can leave your vehicles at the Double Tree by Hilton in Missoula for the duration of the trip. For increased security of luggage if needed you can store this at our Lolo, MT HQ location.
Weather
The Selway begins at 3500 feet. Typically, days are hot and nights are cool. Study our Gear List carefully, and call the office with questions. Weather in the Central Idaho Mountains is very unpredictable, and you need to be well-prepared.
Trip Insurance & Responsibility
We encourage the purchase of Trip Cancellation, Accident, and Baggage Insurance Policies. These policies cover cancellation, personal property, and personal injury. Many insurance companies offer such policies.
HUGHES RIVER EXPEDITIONS, Inc. spares nothing to assure that all trips we outfit are the safest and best outfitted expeditions available. Our safety record is excellent. However, river running is not without some risk, and you as a potential river runner must be willing to assume this risk. HUGHES RIVER EXPEDITIONS, Inc. assumes no responsibility whatsoever for your personal safety or for damage or loss of your equipment.
Selway Books and Maps
Available through the Hughes Company Store.
Gratuities
Gratuities are shared among the crew, and typical tips are 10% to 20% of trip fare. Gratuities play a major role in the lives of our guides, who we expect to provide excellent service for your experience. Please remember to tip consistently with their performance.