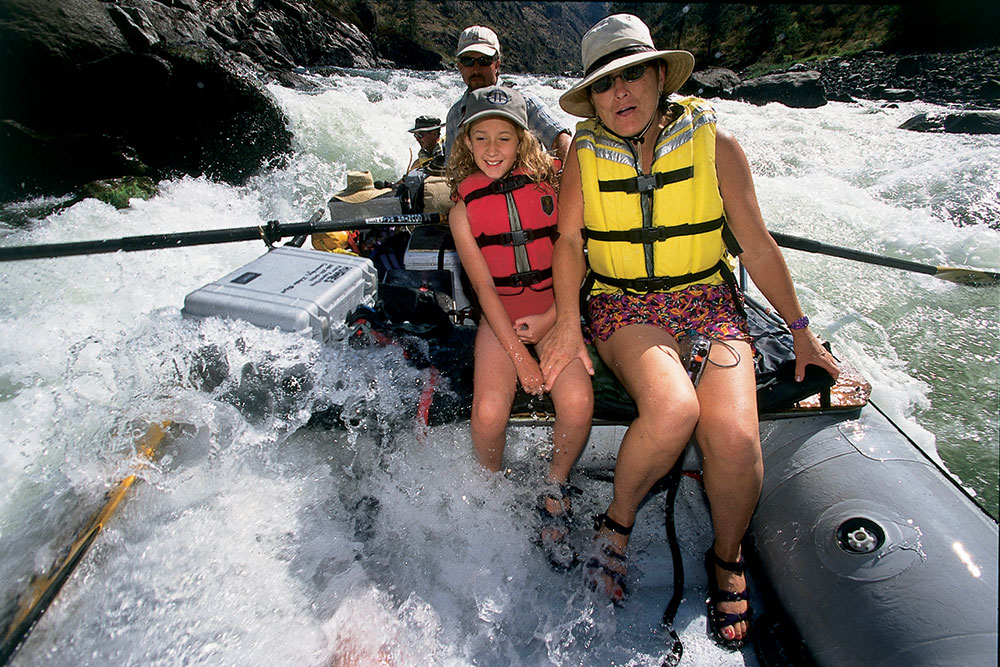 Wallowa and Grande Ronde expedition trips are 3-4 days / 2-3 nights, 40 river miles
The Wallowa and Grande Ronde Rivers offer superb rafting vacations. Rugged canyon walls of basalt rise to 4,000 feet above river level. Dense conifer forest alternates with lush grasslands, and campsites are beautiful.
Headquarters & Starting Point
Plan to meet us at the Red Lion at 7:00 p.m. the evening before the trip for the pretrip meeting. During the meeting, we will discuss the trip, check out trip gear, and handle any last minute details. We recommend that you make your motel reservations at the same time you reserve space on your river trip. Vehicle and Luggage Storage during your float trip is available through the Red Lion. Check with the desk.
Red Lion Inn
621-21st Street
Lewiston, ID 83501
800-232-6730 or 208-799-1000
Getting to Lewiston
Lewiston, Idaho is located on US Highway 95, 114 Miles south of Spokane, Washington. There are commuter flights from most large western cities to Lewiston via Horizon Air. You can also rent a car and drive to Lewiston from the Spokane airport.
The Trip

On the morning the 1st day of your Wallowa-Grande Ronde expedition, we will put-in at Minam. During early to mid-afternoon on the last day of your trip, we will take out near Troy, OR. You can either plan to spend the night at the Red Lion or catch a commuter flight from Lewiston to either Boise or Spokane that evening. Another option is to drive to Spokane via rental car.
Weather
Spring and early summer on the Wallowa-Grande Ronde can bring warm days, cool nights, and possible thundershowers. Daytime temperatures may range from 55-90 degrees.
Trip Insurance & Responsibility
We encourage the purchase of Trip Cancellation, Accident, and Baggage Insurance Policies. These policies cover cancellation, personal property, and personal injury. Many insurance companies offer such policies.
HUGHES RIVER EXPEDITIONS, Inc. spares nothing to assure that all trips we outfit are the safest and best outfitted expeditions available. Our safety record is excellent. However, river running is not without some risk, and you as a potential river runner must be willing to assume some risk. HUGHES RIVER EXPEDITIONS, Inc. assumes no responsibility whatsoever for your personal safety or for damage or loss of your equipment.