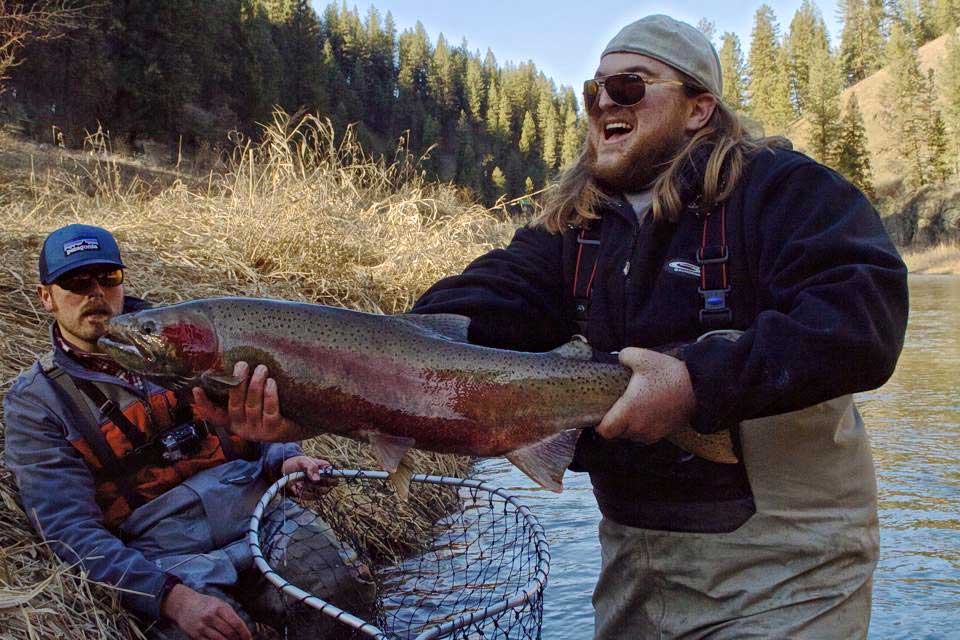 Wallowa Grande-Ronde Fishing
Fall is a great time for a Wallowa Grande-Ronde fishing trip Fly fishing is usually the preferred technique for Rainbow Trout and Steelhead. We recommend a 4-6 weight Fly Rod for Rainbow Trout Fishing and a 7-9 weight Fly Rod for Steelhead Fishing. HRE's suggested rods being a 5 weight and an 8 weight. Some people prefer to use a Spay Rod when wading. Feel welcome to bring your spay rod as we can/will spend time wading.
If you prefer "Gear Fishing" we recommend Light Weight Rods with 6-8 lb test line for Rainbow Trout and Medium Weight Rods with 12-16 lb test line for Steelhead.
Fall Fishing Trip Rates and Schedule
5 Days – $2350/person (fishermen/guide and fishing raft)
September 27-October 1
October 5-9
Wallowa Grande-Ronde Fishing Gear
Recommended Flies for Fly Fishermen:
Large Articulated Streamers
Bead Headed Leaches
Stonefly Nymphs
Other Nymph Varieties
Plastic Steelhead Beads (Bring a variety)
Recommended Lures for Gear Fishing:
Plugs (Hot-Shots)
Spoons
Large Fox-Tails, etc…
More Plastic Beads!
Other Gear to Bring
Indicators

Air Lock Strike Indicator (Recommended)
Thingamabobbers are Good
Eagle Claw Line Bobbers/Floats (Gear Fishing)

Weights
Waders
Wader Boots
Extra Leaders 9ft-10ft, 4X tapered preferred

As a standard practice use leader the length of your rod

00X – 5X Tippet
Personal Thermos
Gloves
Hooks (size 6-10 octopus)
Forceps and/or Needle Nosed Pliers
Clippers
Shrimp Sent
Wallowa Grande-Ronde Fishing Licenses
In addition to an Oregon fishing license, you will also need a steel-head permit. You can purchase fishing licenses in most Oregon cities. You will have a chance to purchase your license on the way to the put-in. More information on Oregon Fishing Licenses.