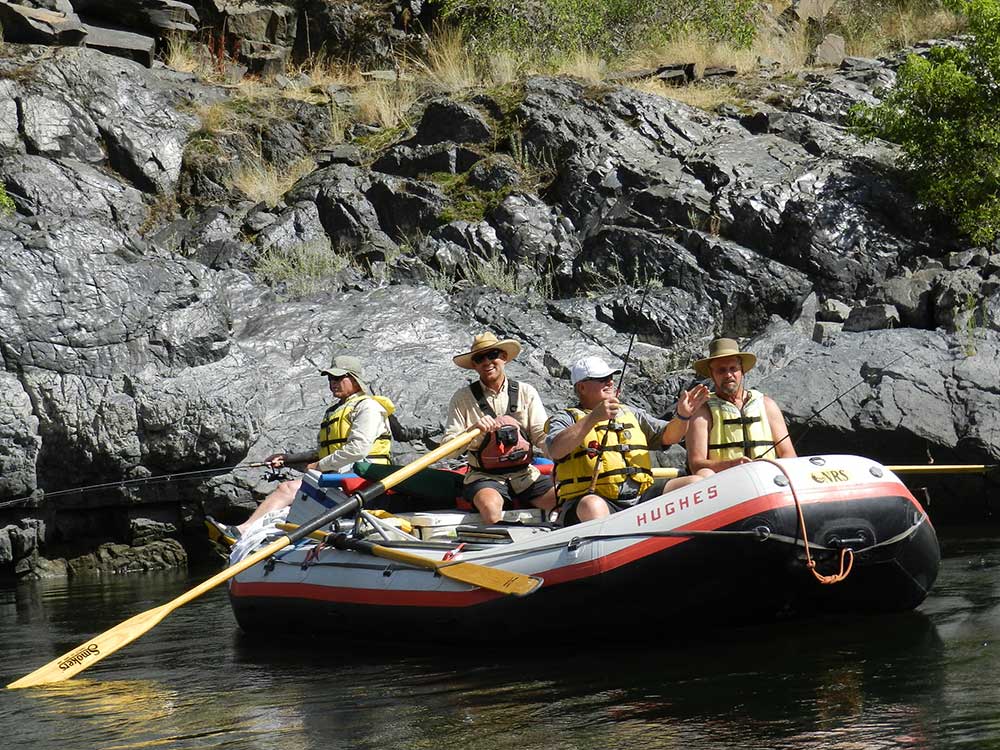 Hughes River Expeditions provides gear and instruction. Lightweight spin casting and fly fishing gear are both effective. Check with the Hughes Office for complete information.
Fishing is available on all summer trips through the Salmon River Canyons. We fish for smallmouth bass, rainbow trout, and huge white sturgeon. Both light weight spin casting and fly fishing work well. Hughes River Expeditions provides equipment and instruction, and we provide sturgeon fishing gear. Salmon River Sturgeon can reach more than 9 feet in length!
Fishing on Every River Trip
If you're just a casual fisherman(woman), Hughes will provide all of the gear that you need and give you the instruction to find the fish! Every trip we run on Salmon River Canyons has at least one fishing guide on it to get you started and show you the secret fish spots.
Salmon River Canyons Fishing Rafts
Serious fishermen can arrange a fishing raft with 2 fishermen/guide and raft service. When a fishing raft is booked all tackle is provided. Inquire online or check with the Hughes Office for details.
Fishing Licenses
You can purchase an Idaho fishing license and tackle in Lewiston before the trip.
*We recommend getting your fishing license the day before your trip at the latest.*
You can also purchase an Idaho fishing license directly from Idaho Fish & Game Dept. [https://license.gooutdoorsidaho.com/Licensing/CustomerLookup.aspx] Cost is $22.75 for the 1st day, and $7/day for each additional day. Children under 14 can fish on a license of an adult parent.