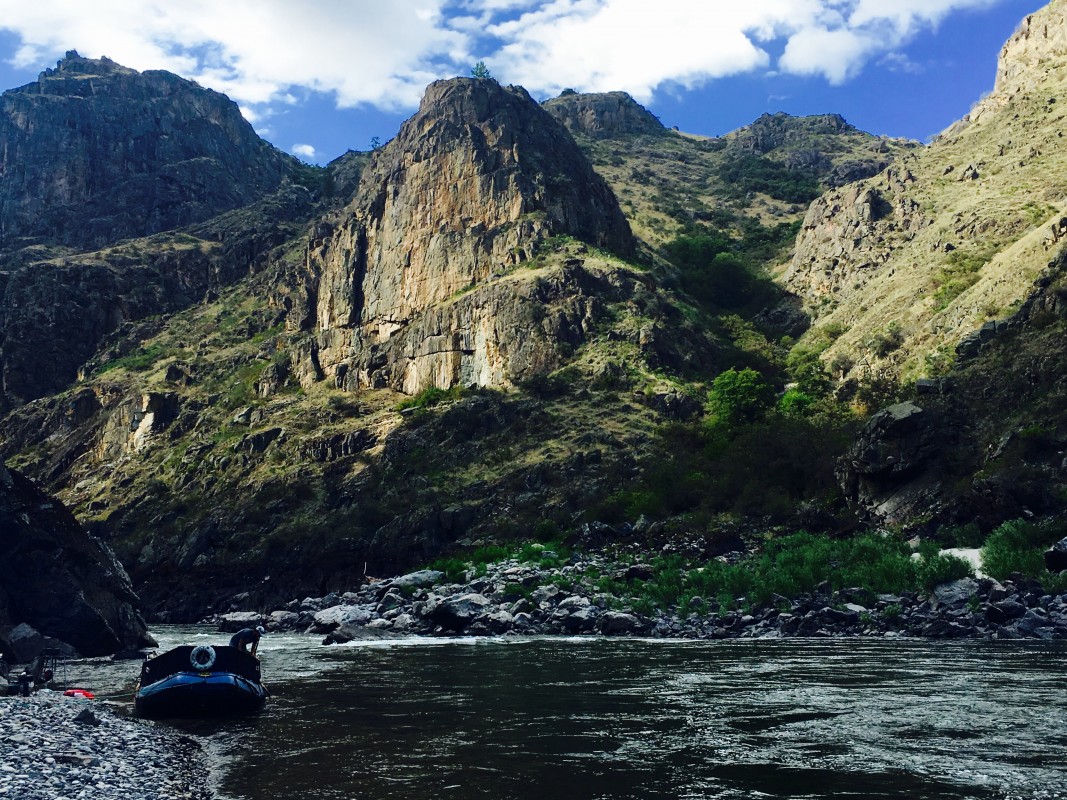 Thank you for the incredible experience you provided Stoltz on the river.  We were impressed with your impeccable service, capable (and FUN) guides, beautiful meals, and spectacular camps.  We are still reminiscing…..  Stoltz is forever grateful for the amazing trip and hope to do more with Hughes in the coming years!!
We had the best trip of all time and love the crew, 10 out of 10!
I have an annual rafting trip with an amazing group of women.  This year we met at the Lower Salmon in Lewiston Idaho.  The crew assigned to the Divas was great.  These guys worked HARD at making our trip everything it could be.  Amazing scenery, great fun, yummy food, great guides who are very fun… my face still hurts from laughing.  This trip was just what the Doctor ordered.
What a wonderful time we all had on the Salmon!  All of us are so grateful to have experienced such a special time.
As I drove home from Lewiston, I allowed myself to bathe in the memories of our family river float trip….kids enjoy the paddleboat, the kayaks, the hikes, the swims, the football, the leaping off columnar basalt into a most refreshing pool, spotting of wildlife…. the most remarkable of which were a group of Bighorn sheep performing a dance for us on a beach…river games the last night, the wonderful meals…fly fishing….  I wanted to get back to you with my expression of gratitude and recognition of the incredible dedication and hard work exhibited by the crew.
We all had a marvelous time, the crew was the best, and it was a joy to be with Carole.  Hope to plan another trip!
"The team was great and everything went beautifully.  We hope to join you again next year or the year after.  We have a lot of budding boaters and everyone has a ball regardless of age or skills.  Keep it up!"
"Thank you so much for a truly spectacular 5 days on the Salmon River.  We had high expectations, having heard rave reviews from family and friends, and you exceeded them all!  Our trip was a perfect combination of fun, beauty, sunshine, great food, wonderful company, exercise and relaxation.  The highlight, of course, was the superb team of Ashley, Buzz, Hardy, Hugh, Mark, Rob, and Tyler.  Their expertise, sense of humor and uncanny ability to real everyone's needs perfectly made for an amazing experience.  We look forward to returning next year and will treasure the trip in the meantime!"
"Boy, we sure had a great time.  Can't wait to do it again."
"Have been telling everyone we bump into how great the trip was.  You have a first class operation and a grand time was had by all."
"John and I wish to tell you again how much we appreciate all your care and generosity.  You have provided a "treasure" for us to savor for years to come."
We of Camp Campbell are still talking and laughing about our wonderful trip with The Hughes Group. Thanks – to all could not have been better.
The trip was a great success and we were very pleased with your services. I will be sure to reach out to you if another group at Capital is interested. And in a few years I hope to return and bring my family on the river.
This is the coolest video ever – thanks for bringing back the memories – such an incredible trip – I think we should do it every year. Thanks Jack – really special – miss it already!
From the dark depths, where the sturgeon swim, of the Salmon River, I am back to haunt you. Jack Giaputro made this incredibly cool and outrageous video of our trip. Only one word can describe it – bitchen!
I had to write as soon as we were back to let you know what an amazing time we just had. It was probably the most wonderful experience we have had as a family. Everyone loved every minute. The whole trip exceeded even our best expectations and created memories for us and the children that will last a lifetime. Buzz and Hugh were both absolutely fantastic, as guides, chefs, and cocktail mixers!! Thank you so much to everyone for creating just the most spectacular 4 days. We love the Salmon and it's wonderful beaches, rapids and stunning views and will be back one day to try out the Middle Fork. The food was delicious…. Expect lots of enquiries from London as we will be definitely recommending Hughes River to all our friends!!
I want to express my sincere appreciation to you and your crew at Hughes River Expeditions for a first-class trip down the Salmon River last week…. (It) left me with a strong desire to trade in the tie and computer for a kayak and oar!
Thanks again for a great river trip. You impressed a group of people who aren't easy to impress! I'm looking forward to my next trip. Hope to see you soon.
Our Salmon River Canyon float trip … was a huge success. All of your guides were extremely professional as well as being good company. As usual, the food and care taken of us was excellent. It was also nice that two of your crew guided us on the Middle Fork a few years ago – it was like adding two old friends to the group. We look forward to our next one.
Our trip with you on the Salmon River Canyon was outstanding… Thank you for all your efforts. We hope to do it again. We will send others.
Our family just returned from the July 20-23 Salmon River Canyon trip. This was our first experience camping and whitewater rafting. I needed not to be apprehensive for our safety. Your guides were knowledgeable, strong, and experienced… The trip was fun, exciting, and beautiful. Thank you for providing such a quality experience.
Just wanted you to know what an excellent time we had on the Salmon River Canyon last week. My expectations were so high based on our prior trips with Hughes and it was hard for me to believe that those expectations could be exceeded – but they were. Great trip, great weather, Buzz, Traves, and Mark were absolutely outstanding. Couldn't have asked for anything more. You've outdone yourselves again. THANKS!!
The Salmon River run with all my Capital associates was a great trip. Everyone had a wonderful time, and the experience was a valuable one in terms of building and expanding relationships and friendships… You and your folks did a superb job.
I want to thank you for a great time on the river! It was a fantastic experience for me! It turned out to be all that I expected,…and much more!…I am planning on returning next year with my family!… I think the Salmon River Canyon trip, same as we just took with Capital associates, would be perfect for us.
You guys probably get this kind of mail all the time, but WHAT A GREAT TRIP!!! I particularly appreciate you steering us to the Salmon Canyon, as it was ideal for our group. The whitewater was daunting enough to challenge the boys and provided them with a positive first experience in kayaking. Loved the sand beaches and the great campsites. We thoroughly enjoyed the guides. All of them were cordial, entertaining, and very patient with the younger children. The food was outstanding, but you knew that. Even Andy the World's Pickiest Eater went back for seconds on salmon.
I want to thank you for a fantastic vacation. My friends, my wife, and myself, had about the best four days we could imagine. The Salmon River could not have been better, and I think you have made some life long converts to kayaking.
Just a quick note to let you know that we had a wonderful trip. The most important factor was the quality of your guides…We will see you again.
The boys worked so very hard to make our river experience a truly memorable one!!…I didn't feel we were able to give them a proper good-bye! This being my only regret of a near-perfect trip; you have a great group working for you and we can't wait to join you again soon.
Just wanted to thank you and your crew for another incredible experience on the river. Everyone was unfailingly lovely and every detail was perfect (right down to the live music during cocktails!!! Many thanks.
Sandy and I want you to know that we had a wonderful time floating the Salmon River Canyon recently. ….(O)ur guides played a huge role in making our experience one to remember. They were professional, friendly, highly-skilled, and fit into our group as if they were close friends. …It seemed like everyone on our float trip was hand-picked. You can be certain we will replay this experience many times and share it with others.
Thanks again for all the wonderful food, local expertise, and a couple of well-deserved dunkings. It was wonderful hangin' out with all of you! I'd love to run the Middle Fork with you sometime in the future. You all ROCK!!!!
Seriously though, you have no idea how much we enjoyed the river trip. A day hasn't gone by that we haven't talked about it. Thank you so very much for everything you did! We appreciate all your efforts, muscle power, and cluinary expertise!…We hope to see you all again for another trip.
I just wanted to tell you that Emily and I had a super good time on the river last week!…Your guides, as always, were superb! We enjoyed each one…We doubled the tip we planned to give them because they were all so impressive..You can plan on our business again next year on the Middle Fork…
I want to thank you for the trip you put together for our group in July. We had a great time…Ashley, Fred, Ryan, Eric, and Hugh Cooke are all great and took very good care of us. With the four 7-9 year olds, Ashley sort of got turned into a childcare boat and the recreational manager, along with her other responsibilities, and the kids all loved her. Each time we do a rafting trip your people make it a memorable event and please pass along our thanks.
Many thanks for your exemplary customer service and interactions during last week's river trip…I'm looking forward to an opportunity for a return trip and would not hesitate to recommend you to friends considering a similar trip.
Ashley, it was great rafting with you. All of you did a great job of guiding. Good luck this fall. I know your future students will love a teacher like you.
I can't tell you how much we enjoyed our time on the Salmon with your folks last week. It was a typical Hughes experience and exceeded all expectations. The river, the food, the guides, the camp sites and accommodations, the gear, the extra libations, the fishing, etc. were simply outstanding! We've had great guides on other trips, but Travis, Ben, and John raised the standard to a completely different level…Jerry, you should feel great about the customer experience you provide for your guests.
We all had a terrific time. We think we've got kayakers for life! All the guys loved playing jazz along the river every night as did the guests…Another fabulous vacation with Hughes River Expeditions! We've spread the word…
I'd like to thank you and your great crew for a wonderful rafting trip. It was the perfect celebration for our 50th anniversary and we were very fortunate to get all of our children and grandchildren together for the trip. ..The trip was a great adventure and it seemed to have something for all ages of our family from 5 to 76. Your rafting team did a wonderful job of guiding us through the rapids as well as taking care of our every need over the five day trip… Please also express our sincere appreciation to your crew for a job well done.
To the amazing team at Hughes! We have such beautiful memories of our wonderful trip with you this past summer. Hope you enjoy these photos. It was truly the trip of a lifetime made even more so by your fantastic team.
I cannot tell you what a wonderful time we had. It was one of the best experiences I have ever had. Paul and the kids were beyond thrilled and are already planning when to come back. It was beautiful, you and your staff were wonderful. Paul recharged (away from his Blackberry, cell phone and computer), and the kids realized what it's like to be a kid in a technology free atmosphere! …(W)e will also try to organize a large group of our friends most likely in 2013 but quite possibly next summer.
It was a great trip that was enjoyed by all. I am still getting thank you emails. We will stay in touch.
Such a rare and unique opportunity to get away from city life and experience river time…. I enjoyed every moment, going between boats, great food, kids being kids, and good company. No one could have justly described the experience until I tasted it myself…. I am already thinking of my core friends who need to experience this and with whom, I shall travel with next year down the Snake. Perhaps a JAZZ trip also in a couple of years…
We had the most amazing time and I wanted you to know what an amazing crew. They each had something unique and special that added to the trip…. I only wish the trip had lasted another week or two. Can't thank you all enough… Also loved the food.
Thank you for an awesome trip! You are a super crew. I am looking forward to next year!
Thanks for a fantastic trip. You run a first class operation and I feel very fortunate to have been a part of this trip.
I want to express my gratitude and praise for the 3 guides Robbie, Doug and John. They were fantastic. At all times courteous, competent, knowledgeable, entertaining and generally awesome…. I will certainly be recommending Hughes to my friends and recommending that they request these particular guides.
Thank you so much for giving our family the trip of a life time! The memories from our Salmon River Canyon White Water Wedding Reception will be cherished by every member of our family forever! The food was amazing and, of course, all of you were amazing as well.
The guides were amazing, they tended to every need, every questions, Skip took great care of the fishermen, he never ran out of stories, Devon handled the kayakers with grace and skill,… she and Mike were so cool, Hugh was ever the gentle man, always able to tell stories about the canyon, Tony of course was always watching over everyone to be sure things went well and safe, Mike was so awesome, Jon can sure play the harmonica… and of course Marshall, he kept everyone laughing… Every meal was done to perfections, … Camps were perfect… Every guide made sure each of us were taken care of and we felt appreciated. I just can't tell you enough how awesome this trip was, everyone in our group was amazed at the organization. We will be back again for sure.
We have just returned home from a wonderful trip on the Salmon River…We have been on more than a dozen professionally guided river rafting and kayaking trips.. (and) our recently completed trip with Hughes River Expeditions stands out as one of the finest adventures we have experienced… The crew's team work and seamless sharing of the endless duties and chores was so efficient that it made the hard work appear easy and even fun. It certainly met and exceeded all our expectations…. Please pass our appreciation and thankfulness on to each of the crew members.
Our group had a great trip… We couldn't say enough about the crew, still talking about them the next day. Great guys, didn't make me miss Buzz from my last trip, but then you didn't tell me that I'd have Buzz's son on this trip! The guys were talking about the Middle Fork trip and the Snake Canyon, so maybe I'll be back soon.
I just wanted to thank you for such an AMAZING experience on the river last week. I have never done anything like that before, and I had the BEST time! I will never forget this trip, you and your crew and the amazing experienced you all created for me and my co-workers. I can't wait to bring my family and friends along for a trip soon!
Thank you so much to you and your team for a fabulous trip! … As you know, this was my first river-rafting and camping trip and you and your team made it a fantastic experience…. Thank you for a wonderful memory!
Well, we are back home in our "normal" routines again after a wonderful sun and fun filled rafting trip. What a well-run, oiled machine you have created. Our crew – Hugh, Robbie, John and Kaine were TERRIFIC!! So courteous, efficient, and just all around nice guys. They have been trained well – but you can't teach some of the caring qualities they possess… They made the trip fun and interesting as well with their knowledge of the area and the rivers. Of course,… the band was superb! What an experience! Top notch jazz in the wilderness!
I wanted to let you know what an incredible trip we had. The landscape was amazing, the food was delicious, and the rapids were super fun. But absolutely and by far the thing that made this trip super special for me were the guides. From keeping us safe, to keeping us fed, to keeping us entertained, they went above and beyond. … They were also incredibly wonderful with our kids, encouraging them to try out the kayaks and showing them the ropes…. I wanted to take them all home with us after the trip.