Salmon River Canyons Raft Expedition
Whitewater rafting trips on the "River of No Return" are one of the best family outdoor vacations available. The Salmon River drifts through quiet pools and surges into churning whitewater rapids.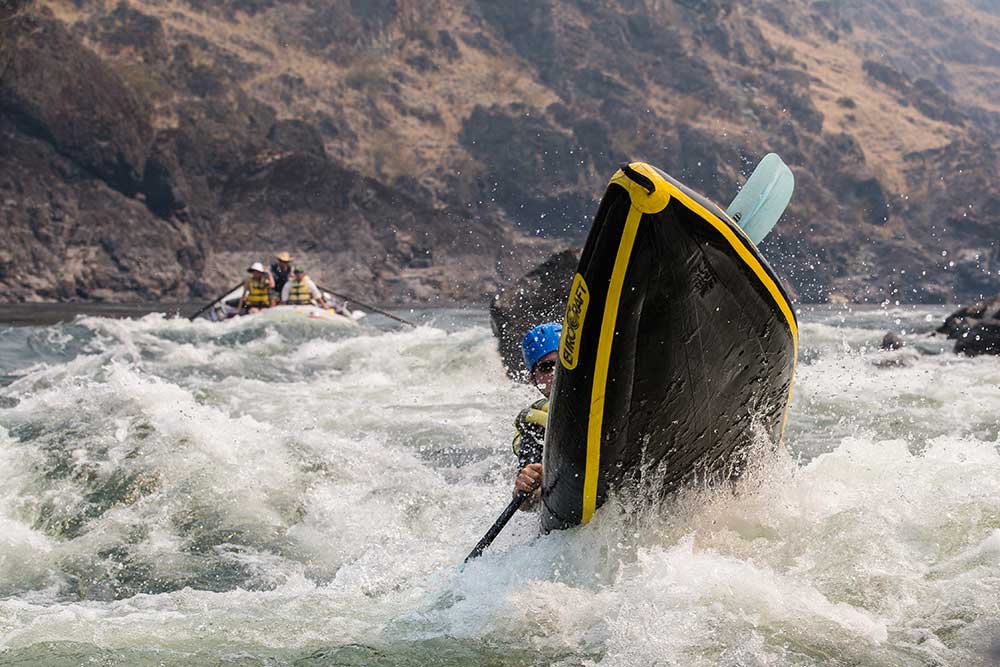 Headquarters & Starting Point
Plan to meet at the Red Lion at 7:00 p.m. the evening before your trip for the pre-trip meeting. When you arrive at the Red Lion, please check in with the desk to inform them that you will be making a trip with us, and to check for any messages we might have left for you. At the meeting, we discuss the trip, check out trip gear, and handle any last minute details.
Red Lion Inn
621-21st Street
Lewiston, ID 83501
800-232-6730 or 208-799-1000
Reservations at the Red Lion should be confirmed well in advance. Please be sure to contact the Red Lion as soon as you make your river trip reservations. Ask for the "river rafter" rate when you book your room.
Getting to Lewiston
Lewiston, Idaho is located on US Highway 95, 114 miles south of Spokane, Washington. There are commuter flights to Lewiston via Horizon Air, you can also rent a car and drive to Lewiston from the Spokane airport. Groups can arrange charter vans. Please check with our office for details.
Put-in / Beginning the Trip
We provide land transportation to put-in from Lewiston the morning of the first day of the trip. The drive is approximately 75 miles.
Take-out / End of Trip
At lunch, downstream of the confluence of the Salmon and Snake rivers, we are met by a charter jet boat. The jet boat takes you approximately 60 miles down the Snake to Hells Gate State Park in Lewiston, ID. The Red Lion meets you there and returns the group to the Hotel. Plan to arrive at the Red Lion around 2:30-3:00 pm on the last day. Cost of the jet boat is included in trip price.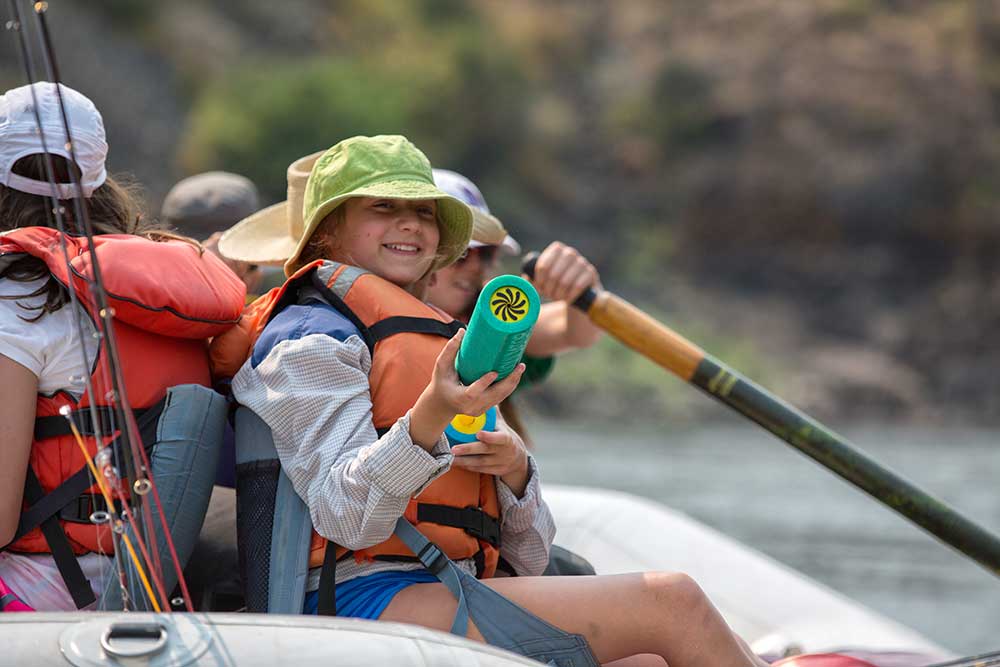 Fishing
You can purchase an Idaho fishing license and tackle in Lewiston before the trip. You can also purchase an Idaho license by contacting the Idaho Fish & Game. (800-554-8685 or fishandgame.idaho.gov). Cost is $12.75 for the first day and $6.00 for each additional day. Juniors (14-17 years of age) can purchase a junior fishing license for $21.75/teen/season.
We provide sturgeon fishing gear, and 'catch and release' fishing for white sturgeon is great fun. Salmon River Sturgeon can reach more than 9 feet in length.
Vehicle & Luggage Storage

Vehicle and luggage storage during your float trip is available through the Red Lion. Check with the desk.
Weather
Summer is very warm. Daytime temperatures may range from 65 to 110 degrees.
Trip Insurance & Responsibility
We encourage the purchase of Trip Cancellation, Accident, and Baggage Insurance Policies. These policies cover cancellation, personal property, and personal injury. Many insurance companies offer such policies.
HUGHES RIVER EXPEDITIONS, Inc. spares nothing to assure that all trips we outfit are the safest and best outfitted expeditions available. Our safety record is excellent. However, river running is not without some risk, and you as a potential river runner must be willing to assume some risk. HUGHES RIVER EXPEDITIONS, Inc. assumes no responsibility whatsoever for your personal safety or for damage or loss of your equipment.